Yahazia's Story

I had an aunt named Lillie Mae. Whenever I visited Aunt Lillie Mae she would talk about our family's history, stories that I had never heard before. At the time, I imagined capturing those stories in the living voice of this superb storyteller, but I did not act in time. When she died, the opportunity was lost. From that incident with Aunt Lillie Mae,
What's Your Story
was developed.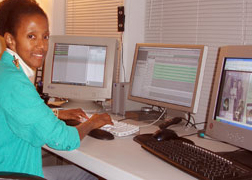 I am what is known in Atlanta as a

Grady baby.

I was born in 1949 in Atlanta, Georgia in Grady Hospital. I grew up in the Grady Homes projects which was a very nurturing and fun environment to live in. It was one big family. I was educated in the Atlanta public school system and graduated from David T. Howard high school in 1966. The summer after graduation, I moved to Ohio to attend college. It was my first trip out of the south and quite a cultural shock. I graduated from Central State University in Wilberforce, Ohio in 1971 with a B.S. degree in social welfare.

Upon graduating from college I worked for the city of Cincinnati, Ohio as a City Planner. Seven years of cold weather and snow in the north made me homesick for the south so I moved back to Atlanta. After working as a caseworker for the Fulton County Department of Family and Children Services, I decided to start a popcorn business. As proprietor of a special recipe for

Magicorn

, a gourmet popcorn in eight patented flavors, I supplied more than a dozen health food stores in the greater Atlanta area and in selected Massachusetts and Florida markets. I was known as

The Popcorn

Lady

.

Following my popcorn business I developed

Clutter Cutter.

This business was designed to help people create order out of chaos in their homes and businesses.
An entrepreneur at heart, it is

What's Your Story
that is my passion.
I find great pleasure in helping people
to discover how much their life matters.


Our Mission
There's a proverb that says, 'When an old person dies, it's as if a library has burned down.'

With each passing day irretrievable stories are lost.

What's Your Story

strives to revitalize the gift of our elders and their heritage. We enable the storytellers to craft a living legacy of their life, along with the history and culture of their families. We endeavor to encourage people to express who they are...their identity, beauty and grace. When the family and the interviewer honor that story, the life of that storyteller is affirmed and they recognize that their life has a meaning and value beyond what they may have imagined.